Foreign & Domestic Automotive Repairs

Unique Auto Care, Inc. automotive technicians are trained and certified to perform the following repairs:
Alignments
Alternators
Air-conditioning
Batteries
Brake Systems
Clutches
Cylinder Heads
Computer Diagnostics
Cooling/Heating Systems
Differentials & Axles

Electrical Systems
Electronic Analysis
Engine/Transmission
Exhaust Systems
Factory Maintenance
Fuel Injection
Fuel Systems
Heaters
OEM Tire Matching
Oil Change and Lube
Power Steering
Pre-purchase Vehicle Inspection
Radiators
Shocks
Starters
Suspension Systems
Tire Repair
Transmission
Tune-Ups
4WD Repairs
4-Wheel Alignment
When your car needs professional automotive repairs, Unique Auto Care, Inc. is a name you can trust.
Unique Auto Care, Inc. performs expert repair utilizing the most professional and appropriate parts available today. We use brand names, including; Bendix, Walker, Ansa, McPherson, KYB, Gabriels, Monroe, Bogge, Bosch, Delco, USA, Nipondenso, Castrol, Cam2, Mobile1, Havoline and Interstate.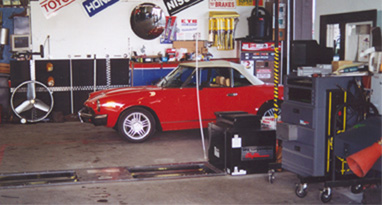 How can we fix all these problems?
We have a machine shop on the premises, which allows us to resurface our own cylinder heads and rebuild them.

Unique Auto Care, Inc. has the latest in high technology equipment, which allows us to:

* Reprogram Transmissions
* Reset Automatic Window
* Engine Relearn
* Radio Codes
* Reset Anti-Theft Systems
* Reset Service Lights
* Reset Check Engine Lights
* Reset Heater Controls

We can repair or replace your exhaust system with original equipment manufacturer (OEM), Ansa, Walker and Flowmaster parts.

* Metal Welding On-Site
* Diagnose Catalytic Converters
* Adapt Catalytic Converters
* Repair Exhaust Manifolds
* Reset / Replace Oxygen Sensors
* Replace Pipe Hangers
* Rebuild Flex Pipes or Make New Ones

Your tires can also be serviced at Unique Auto Care, Inc..

* Mount 17, 18, 19, 20 inch and low profile tires
* Source original rims or after market rims in Chrome, Aluminum, Magnesium and Steel
* This summer we will begin offering wheel alignment.

Heater Cores - the most disliked job in the industry. We do that too.This is the most time consuming and expensive work on any vehicle. We use only original parts. Nothing but OEM parts. To meet our high standards, we also replace the Thermostat and Radiator Cap and verify the integrity of the cylinder head.

Air Conditioning work is also completed using OEM parts from the factory.